Christian Care Center Samaritan Inn
Address
115 N. 13th Street
Leesburg, FL - 34748

The Samaritan Inn is a Transitional HOME in Leesburg, Florida for needy homeless families.

Provides shelter for women and their children who have been displaced by poverty, abuse, or addiction. Ministers to their needs through personal counseling, spiritual mentoring, financial planning, and parenting classes. Job placement and help locating permanent housing are also provided to ensure their continued stability and future hope.

Must be an adult and go through a pre-screening process. Call for details. Call during office hours: 8am - 5pm.

Office Hours
Monday through Friday
8:00 a.m. - 5:00 p.m.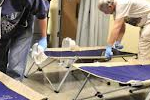 Monday

8:00 AM - 5:00 PM

Tuesday

8:00 AM - 5:00 PM

Wednesday

8:00 AM - 5:00 PM

Thursday

8:00 AM - 5:00 PM

Friday

8:00 AM - 5:00 PM

Saturday

closed

Sunday

closed