Compass Center - Compass Housing Alliance
Address
77 S Washington St
Seattle, WA - 98104

The Compass Center building hosts three different emergency services programs that are all open and free to any in the community who need to connect to resources. The Compass Center building is located in Pioneer Square and is open Monday-Friday, hours vary by program type.


CLIENT SERVICES OFFICE: The Client Services Office (CSO) provides free mail and banking services for individuals experiencing homelessness. For those who are homeless, a mailing address provides stability and the opportunity to apply for benefits, seek employment, access resources, and exercise the right to vote. One of our most basic services access to the CSO is available on a drop-in basis for all Monday-Friday, 9am-4pm.



HYGIENE CENTER: The Compass Center Hygiene Center offers a place for those experiencing homelessness and housing instability a place to use the restroom, shower and do laundry. This program is open Monday-Friday, 7am-2pm.



NAVIGATION CENTER & DAY PROGRAM: The Day Program at Compass Center provides people a place to seek refuge, meals, and basic services as well as connect with housing navigation support, case management, entitlements and other benefits, mental health counseling, and nursing services. Services are available on a drop-in basis and are free, though guests are asked to register and agree to basic behavioral guidelines. This program is open Monday-Friday, 9am-4pm.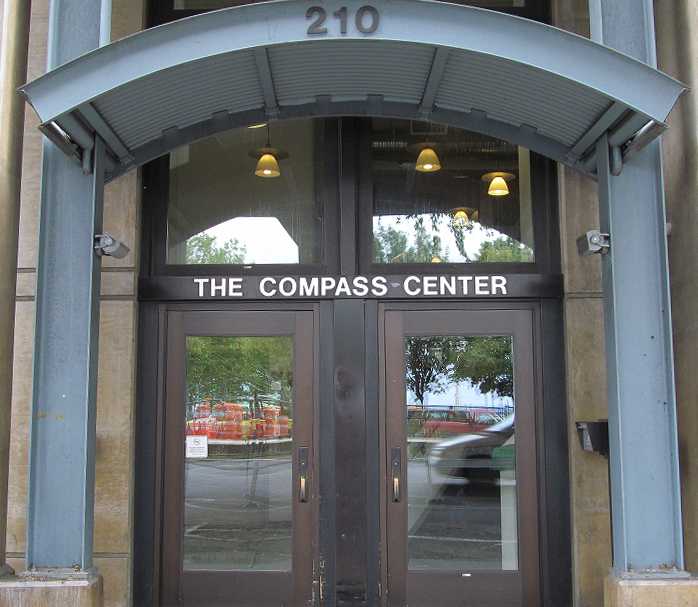 Monday

9:00 AM - 4:00 PM

Tuesday

9:00 AM - 4:00 PM

Wednesday

9:00 AM - 4:00 PM

Thursday

9:00 AM - 4:00 PM

Friday

9:00 AM - 4:00 PM

Saturday

closed

Sunday

closed