Anchor House Inc
Address
250 S. Vine Street
Seymour, IN - 47274

Pantry Hours
Monday 10am-3pm
Thursday 12pm-5pm

Requirements
If you don't have an ID, Clients will be considered residents of Indiana by self-declaration (no ID required) the first visit.
By the 2nd visit you need to bring an ID, library card, bill or something to show that you are a resident of Jackson County.
Clients will be served twice a month beginning February 1, 2018 with no set amount of time between visits.
If you are not a resident of Jackson County you will be served ONE time only. You will also be given food pantry information for your respective county.


* Make sure you check by calling the food pantry to confirm that they still are in operation and the hours have not changed.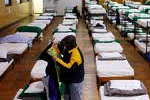 Monday

10:00 AM - 3:00 PM

Tuesday

closed

Wednesday

closed

Thursday

12:00 AM - 5:00 PM

Friday

closed

Saturday

closed

Sunday

closed