Rebel's Drop in Center
Address
3400 North 29th Avenue
Hollywood, FL - 33020

Free drop in center that helps those with mental health or substance abuse.

Hours
Monday through Friday: 3 to 8 pm
Weekends and holidays: Noon to 5 pm

The center has earned a reputation as a safe and supportive, prejudice-free environment with impressive outcomes. For clients receiving mentoring to reduce hospitalization rates, 92 percent are not hospitalized during the first 90 days in the program, and 90 percent of participants surveyed show Improvement in Life Skills and Emotional Stability. For Drop-In participants, 89 percent of individuals surveyed indicate reduced feelings of stress and isolation.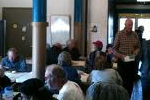 Monday

3:00 AM - 8:00 PM

Tuesday

3:00 AM - 8:00 PM

Wednesday

3:00 AM -8:00 PM

Thursday

3:00 AM - 8:00 PM

Friday

3:00 AM - 8:00 PM

Saturday

closed

Sunday

closed