St. Ambrose Catholic Church Food Pantry
Address
380 South Federal Highway
Deerfield Beach, FL - 33441

St. Ambrose Catholic Church is a food pantry. On Thursdays they hand out groceries to qualifying Deerfield beach homeless and needy.
SAINT AMBROSE FOOD PANTRY
Thank you to our Food Pantry Volunteers. Every Thursday morning from 8 am to 10 am, distributing
food to the needy and homeless of our area. Thanks to all who respond so generously to our requests. Although many answer our call, the need is still great.


* Make sure you check by calling the food pantry to confirm that they still are in operation and the hours have not changed.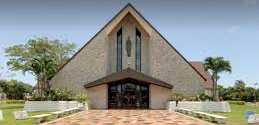 Monday

9:00 AM - 5:00 PM

Tuesday

9:00 AM - 5:00 PM

Wednesday

9:00 AM - 5:00 PM

Thursday

9:00 AM - 5:00 PM

Friday

9:00 AM - 5:00 PM

Saturday

closed

Sunday

closed