Salvation Army of Waukesha - Emergency Lodge
Address
445 Madison Street
Waukesha, WI - 53188

The Emergency Lodge provides emergency shelter to single men experiencing homelessness in Waukesha County. During their participation in the Emergency Lodge program clients are provided with assistance meeting their basic needs and case management services to assist them with addressing their homeless issues.

Contact: Monday-Friday 5pm-9am
Saturday-Sunday 3pm-9am
Open beds are assigned based on waiting list. Call during open hours to be placed on waiting list. Beds cannot be held.

Must be 18 years of age or older
Must have a photo ID
Must be sober and willing to submit to a breathalyzer and drug screen.
Must be willing to cooperate with all rules and policies of the Emergency Lodge program.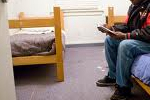 Monday

5:00 AM - 9:00 PM

Tuesday

5:00 AM - 9:00 PM

Wednesday

5:00 AM - 9:00 PM

Thursday

5:00 AM - 9:00 PM

Friday

5:00 AM - 9:00 PM

Saturday

3:00 AM - 9:00 PM

Sunday

3:00 AM - 9:00 PM