Oasis Teen Shelter
Address
125 North Fift Street
Mount Vernon, WA - 98273

The YMCA Oasis Teen Shelter provides emergency overnight shelter for teens aged 13 to 17 years of age. The main goal is to provide teens with a safe place to spend the night in the event that they are going through a rough or difficult situation such as: family conflict, crisis, feeling unsafe at home, not having anywhere to go, or just needing a healthy break from family.
The teen shelter has nine beds, which are allocated on a first come, first serve basis. Teens can stay for up to 21 days.
Hours of Operation:
Daily from 6:30pm to 8:30a.m. the following day
Eligibility:
Youth individuals between 13 and 17 years of age

Services Provided:
Beds availability - first come first serve
21 days stay confidential emergency shelter for runaways or homeless teens (13 to 17 years if age)
9 warm beds, home cooked meals, showers, laundry services, a clothing closet, and case management to help them find permanent housing
Please contact the office for additional information.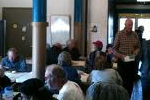 Monday

6:30 AM - 8:30 PM

Tuesday

6:30 AM - 8:30 PM

Wednesday

6:30 AM -8:30 PM

Thursday

6:30 AM - 8:30 PM

Friday

6:30 AM - 8:30 PM

Saturday

closed

Sunday

closed