The Bridge Shelter
Address
410 South Randolph Avenue
Bryan, TX - 77803

The Bridge is considered a working shelter. Residents are required to work their fair share of 30 hours a week or pay $45 a week if client is employed; families with young children are exempt from this requirement.

Intake procedure: Arrive at the shelter; complete required intake packet.

Provides residential care for men, women, and families who are currently homeless. Services include emergency shelter, case management, and assistance with crisis needs and referrals. Provides clothing, personal care, and hygiene items to residents in addition to support and services to help preserve the family unit. Hot meals are served seven days a week at the shelter.

Hours: Mon - Fri 8:00 am - 5:00 pm.

The shelter's services currently include emergency shelter for men,women and families, case management and referrals. The Bridge provides clothing, hot nutritious meals, personal care and hygiene items and assistance with crisis needs.

Support services are also provided by The Bridge. Various community organizations provide seasonal activities for clients. The Bridge also offers intensive case management, a volunteer program and community awareness activities.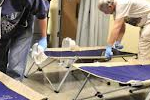 Monday

8:00 AM - 5:00 PM

Tuesday

8:00 AM - 5:00 PM

Wednesday

8:00 AM - 5:00 PM

Thursday

8:00 AM - 5:00 PM

Friday

8:00 AM - 5:00 PM

Saturday

closed

Sunday

closed