Family Promise of Midland
Address
2908 W. Ohio
Midland, TX - 79701

Family Promise of Midland, TX serves FAMILIES experiencing the crisis of homelessness.

Qualifications:
In order to qualify, the family must be homeless and have at least one child under the age of 18 years in their care. We accept single moms, single dads, and two parent families.
This is NOT a hand-out program; it's a hand-up.
Families MUST be willing to be dedicated to helping themselves achieve greater independence and self-sufficiency. Free childcare is provided, so parents can work full-time, go to school full-time, or a combination thereof. All families work with a case manger on weekly goals. Families must be willing to follow rules and get along with other families. Background checks and drug screenings are conducted on all families.

Office Hours:

Please call us for more information or check out our website. Office hours: 7:30 a.m. - 5:00 p.m.
There are 17 church congregations that support MIHN.
15 out of the 17 congregations are referred to as "Host" congregations.
Each host congregation opens its doors at night and provides each family with their own private room to sleep. Each room has roll away beds for our families to sleep on. In addition, a family style sit down dinner is provided, along with some of the best hospitality in West Texas!
We can accommodate up to 4 families at one time. (14 people total)
All of the families stay at the same congregation for a week at a time, only at night from approximately 6:00 p.m. until 6:00 a.m.
During the day, the families come back to our Day Center to get ready for work and/or school.
Each Sunday, all of the families move to a new congregation to begin another week's stay.
The families store their belongings at the Day Center, only carrying overnight necessities to the congregation.
All adults are required to work or go to school full-time, or a combination of both.
FREE childcare is provided for very young children, as well as afterschool care for school-aged children.
Our Day Center acts as "home" for the families when not in school or at work.
While in the program, the families are required to work with a case manager, moving toward self-sufficiency and independence.
The length of the program depends upon the need of each family. Typically, families are in the program 2-3 months.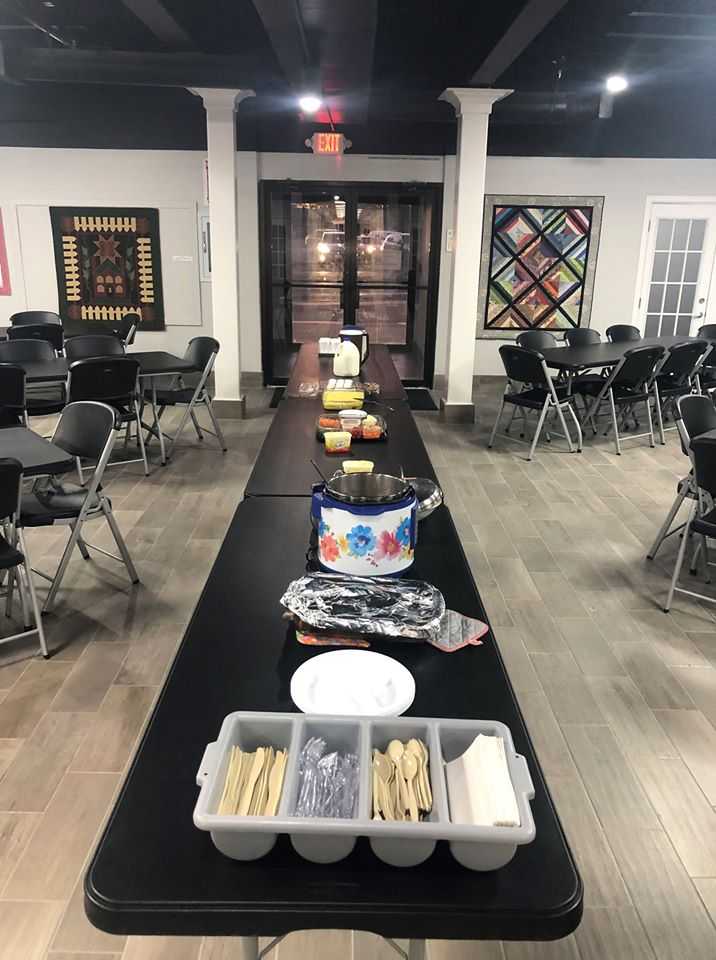 Monday

7:30 AM - 5:00 PM

Tuesday

7:30 AM - 5:00 PM

Wednesday

7:30 AM - 5:00 PM

Thursday

7:30 AM - 5:00 PM

Friday

7:30 AM - 5:00 PM

Saturday

closed

Sunday

closed