St. Joseph Overnight Shelter
Address
2726 Caroline Ave
Lorain, OH - 44055

Shelter hours/days: Monday - Sunday, 5:00pm - 8:00am (October through mid-May).

Men's Overnight Shelter

Open seven days a week 365 days a year, our Men's Overnight Emergency Shelter serves adult men in Lorain County who are homeless or at risk of homelessness. We provide shelter for up to 50 men, with a focus on supporting those with special needs.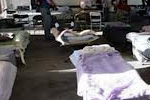 Monday

5:00 AM - 8:00 PM

Tuesday

5:00 AM -8:00PM

Wednesday

5:00 AM -8:00 PM

Thursday

5:00 AM - 8:00PM

Friday

5:00 AM - 8:00 PM

Saturday

5:00 AM - 8:00 PM

Sunday

5:00 AM - 8:00PM