Cleveland Victory Church of The Nazarene
Address
1632 E 55th St.
Cleveland, OH - 44103

Cleveland Victory Church of The Nazarene is a food pantry. Serves Low-income and must reside in Cleveland in the following service area: Service boundaries are from E 12th St. to E 85th St. and from Euclid Ave to the lake. Documentation Required: Following items needed each time service is requested: Photo ID for requesting adult, ID for each family member such as a birth certificate), Proof of Address/Residency current post-marked piece of mail), Proof of Income.

Food pantry service hours: 3rd Saturday of the month: 11am-2pm.. .

* Make sure you check by calling the food pantry to confirm that they still are in operation and the hours have not changed.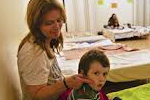 Saturday

Monday closed Tuesday closed Wednesday closed Thursday closed Friday closed 11:00 AM - 2:00 PM

Sunday

closed