Salvation Army O'Fallon
Address
1 William Booth Dr
O Fallon, MO - 63366

Homeless shelter for families.
Office Hours: Mon - Fri, 8:30am - 5pm; Sat, Sun, closed.

homelessness, by addressing its root causes and breaking the cycle of poverty.We operate four shelters in the St. Louis Metro area that serve the neediest men, women and children in the region. Residents of these shelters are afforded up to 120 days to get back on their feet. They are provided with meals, beds and assistance with medical treatment and job searches. Once they are ready to transition to more permanent housing, Salvation Army case managers work to help them find suitable accommodations which will allow them to transition back into their lives successfully.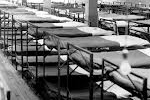 Monday

8:30 AM - 5:00 PM

Tuesday

8:30 AM - 5:00 PM

Wednesday

8:30 AM - 5:00 PM

Thursday

8:30 AM - 5:00 PM

Friday

8:30 AM - 5:00 PM

Saturday

closed

Sunday

closed