Salvation Army Cambridge MD
Address
200 Washington Street
Cambridge, MD - 21613

Office Hours: 9 AM - 3 PM M-F
Shelter Hours: 7 PM - 7 AM Daily
Family Store Hours: 9 AM - 4 PM M-Fri and 10 AM - 2PM On Sat
Products
- a worldwide evangelical Christian church.
- a charitable organization.
- a safe place for kids.
- a warm place to sleep for the night.
- emergency financial assistance.
- a help for the hurting.
- educational programming.
- there in times of disaster.
- Doing The Most Good!
Sunday School 10 AM
Sunday Morning Worship 11 AM
Sunday Evening Worship 6 PM
Tuesday Youth Activities 5 PM - 630 PM
Wednesday Bible Study 6 PM
Wednesday Women's Ministries 7 PM
Wednesday Men's Fellowship 7 PM

The Salvation Army located in Cambridge, MD is not only a safe space for children on youth nights to grow their faith, participate in fun activities, and enjoy a home cooked meal, but also to make connections and new friends.

The homeless shelter across from the church where these youth nights are held helps many people of all walks of life. This homeless shelter is one of the only shelters available all year round. It holds 27 people but they are currently working on getting trailers to expand their reach and help as many people as they can. Those who work and volunteer for the Salvation Army are some of the most selfless people I have ever met, they are all just trying to improve the community and help people in need, one at a time.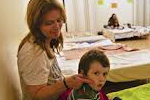 Monday

9:00 AM - 3:00 PM

Tuesday

9:00 AM - 3:00 PM

Wednesday

9:00 AM - 3:00 PM

Thursday

9:00 AM - 3:00 PM

Friday

9:00 AM - 3:00 PM

Saturday

closed

Sunday

closed