Advocates for Homeless Families - Homeless Services
Address
216 Abrecht Place
Frederick, MD - 21701

We are located near the intersection of College Avenue and Carroll Parkway just off of West Patrick St.

Pairs homeless or at-risk families with a case manager who helps them to identify the problems standing in their way and find solutions. Program requires a two-year commitment from participants and they must be clean and sober for six months prior to entry and must remain that way.

SERVICES:
1) TRANSITIONAL HOUSING: Housing fee is 30% of family's income. Parents must be involved in an educational or training program which will prepare them to secure permanent housing on their own. Parents must attend weekly workshops and support groups provided by the agency. Case manager provides support and makes weekly visits to ensure that needs are being met and that clients are progressing toward an independent lifestyle.

2) FAMILIES FORWARD: Connects low-income families in economic crisis with appropriate resources to help them keep from losing their homes. These families receive the same comprehensive services as transitional housing families and must enroll in any education or job training program offered by the agency.

3) DONATIONS: Accepts donations of small appliances and automobiles that are in working condition as well as gift cards from grocery and department stores. Items can be dropped off during business hours at 216 Abrecht Place, Frederick.

4) HOLIDAY DONATIONS: In need of gift cards and monetary donations to provide Christmas gifts to established clients.
Hours: Mon-Fri, 9AM-5PM.

Transitional Housing Program
The Transitional Housing Program is a two-year structured and holistic program provided to families who are homeless. The program, which includes individualized case management and Life Skills Workshops, is designed to support families in their transition to stable and independent living.

The Families Forward Program is designed to be preventative for families who are at-risk of becoming homeless. A two-year structured and comprehensive program providing individualized case management and Life Skills Workshops to support families in maintaining their self-sustainability and improve their standard of living.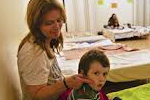 Monday

9:00 AM - 5:00 PM

Tuesday

9:00 AM - 5:00 PM

Wednesday

9:00 AM - 5:00 PM

Thursday

9:00 AM - 5:00 PM

Friday

9:00 AM - 5:00 PM

Saturday

closed

Sunday

closed