Aunt CC's Harbor House Shelter
Address
1031 East Monument St
Baltimore, MD - 21202

Office hours: Mondays through Fridays 8am to 5pm.

Aunt CC's Harbor House Shelter helps low-risk males between the ages of 11 to 17 who are referred by the Department of Social Services and the Department of Juvenile Justice.

Aunt CC's Harbor House is an alternative to detention placement housing youth who require temporary care. The residents are provided with group and individual clinical services, life skills preparation, food, and clothing.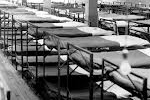 Monday

8:00 AM - 5:00 PM

Tuesday

8:00 AM - 5:00 PM

Wednesday

8:00 AM - 5:00 PM

Thursday

8:00 AM - 5:00 PM

Friday

8:00 AM - 5:00 PM

Saturday

closed

Sunday

closed