Wellspring House - Emergency Shelter for Families
Address
45 Congress Street, Suite 4120
Gloucester, MA - 01970

DTA hours of operation: Mon – Fri from 7:00am to 5:00pm
Wellspring is part of a statewide shelter system that helps to house 5 families at a time in Gloucester and provides stabilization case management to families throughout the North Shore communities of Beverly, Salem, Danvers, and Cape Ann.
Our work is funded in part by contracts with The Department of Housing and Community Development (DHCD) and Lynn Housing and Neighborhood Development (LHAND).
Families seeking emergency shelter need to go to their local DTA office.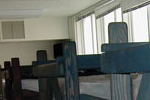 Monday

7:00 AM - 5:00 PM

Tuesday

7:00 AM - 5:00 PM

Wednesday

7:00 AM - 5:00 PM

Thursday

7:00 AM - 5:00 PM

Friday

7:00 AM - 5:00 PM

Saturday

closed

Sunday

closed