God's Outreach
Address
1512 E Main St
Richmond, KY - 40475

Food distribution Hours: Mondays through Wednesdays 9am to 12 noon.
What We Do

1. Provide supplemental & emergency food to approximately 1600 families

2. C.S.F.P. Commodity Supplemental Food Program, helping seniors have a more nutritional diet to improve their health.

3. Backpack Program: Serving 19 schools with approximately 1750 backpacks of weekend food

The Backpack program began in 2008, in partnership with teachers, parents and church groups. Children in need are confidentially identified by their teachers, and receive a returnable backpack filled with useful food such as ravioli, soup, fruit snacks, chips, cereal bars, cereal, popcorn, and other smacks, for the weekend. Currently 19 Madison County schools are involved in this program distributing approximately 1,750 backpacks monthly, and asking for more.

4. Children's summer feeding programs:
a. Supplying food to local children in the summer.
b. Crock Pots for Kids
c. Richmond Teen Center
To receive assistance you must be a Madison County resident. Please bring the following items with you:

Your Photo ID/Drivers License and a current piece of mail with your name and address on it.

You will need the Names and date of birth of everyone who lives in the home.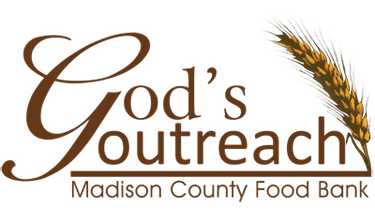 Monday

9:00 AM - 12:00 PM

Tuesday

9:00 AM - 12:00 PM

Wednesday

9:00 AM - 12:00 PM

Thursday

closed

Friday

closed

Saturday

closed

Sunday

closed