Gods Outreach Madison County Food Bank
Address
1512 East Main St
Richmond, KY - 40476

Gods Outreach offers supplemental food to residents of Madison County.Clients can receive services from them once a month.They are located on Geri Lane between St George St and N Porter Dr. Their hours of operation are Monday,Tuesday and Wednesday 9:00 am - Noon. Please contact them for more information.
To receive assistance you must be a Madison County resident. Please bring the following items with you:
Your Photo ID/Drivers License and a current piece of mail with your name and address on it.
You will need the Names and date of birth of everyone who lives in the home.
Clothing Bank
If you are eligible to pick up food at the God's Outreach, you may visit the clothing bank once every three months.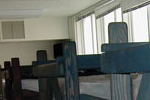 Monday

9:00 AM - 5:00 PM

Tuesday

9:00 AM - 5:00 PM

Wednesday

9:00 AM - 5:00 PM

Thursday

closed

Friday

closed

Saturday

closed

Sunday

closed