St. Elizabeth Catholic Charities
Address
702 E Market Street
New Albany, IN - 47150

St. Elizabeth Catholic Charities offers 3 Residential Programs, located on our campus in downtown New Albany, that provide pregnant and/or parenting women and their young children with a safe environment to live, get back on their feet, and get connected to community resources.

Intake inquiries can call 812-948-0400 any time to leave a message and begin the process. Residential staff will ask questions and gather information to help determine your needs, if our services are a good fit, and if we have suitable space available.

Move-ins typically take place between the hours of 9am-2pm Monday-Friday.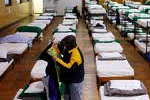 Monday

9:00 AM - 2:00 PM

Tuesday

9:00 AM - 2:00 PM

Wednesday

9:00 AM - 2:00 PM

Thursday

9:00 AM - 2:00 PM

Friday

9:00 AM - 2:00 PM

Saturday

closed

Sunday

closed