MorningStar Mission Ministries Inc.
Address
350 East Washington Street
Joliet, IL - 60433

EMERGENCY SHELTER
The Emergency Shelter provides emergency, overnight shelter for men 18 years old and older, 7 days a week, 365 days a year.
MorningStar Missions Mens Emergency Shelter is one of our most critical ministries. Seven days a week, 365 days a year, we offer emergency, overnight shelter to ensure homeless men in our community have a warm, clean, safe place to sleep. Our facility holds 22 bunk beds; showers, laundry service, meals and chapel services are provided.

Address: 360 E. Washington St., Joliet, IL 60433

Requirements: Must be 18 years or older and have a current ID

Hours of Operation: 6 p.m.7 a.m.

Hope House
Hope House provides transitional housing for graduates of the 180 Mens Residential Recovery Program who need additional time for recovery. For more information, please contact us below.
Requirements: Must be employed or attending school full-time

At MorningStar Missions East Side Caf, we serve an ever-increasing number of homeless and at-risk guests in the Joliet community. We offer three warm meals six days a week and two meals on Sundays. MorningStar is the only agency in Will County to do so. Every year, the East Side Caf serves more than 150,000 meals.
Open to the public:
Monday to Saturday: 7 - 8 a.m., 12 - 1 p.m., 5 - 6 p.m.
Sunday: 7 - 8 a.m., 5 - 6 p.m.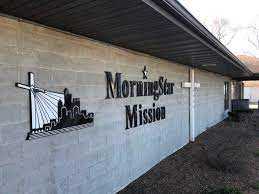 Monday

9:00 AM - 5:00 PM

Tuesday

9:00 AM - 5:00 PM

Wednesday

9:00 AM - 5:00 PM

Thursday

9:00 AM - 5:00 PM

Friday

9:00 AM - 5:00 PM

Saturday

closed

Sunday

closed