C-U at Home
Address
70 East Washington
Champaign, IL - 61820

The

CU Men's Shelter

exists to provide a warm and welcome space for our neighbors who have no place to stay during the winter nights. We do this by operating the only men's emergency shelter in Champaign County.
C-U at Home Men's Emergency Shelter
Overnight emergency shelter for men provided during the winter months beginning November 1, 2019 through April 15, 2020. Showers and laundry are not available during shelter hours.
Start Date & Time: Opens November 1st, 2019, 8:30pm-7:30am
Location: C-U at Home, 70 E. Washington Street, Champaign
The Phoenix Daytime Drop-In center
is the centerpiece of our ministry, bringing our friends without an address together with our friends from the community. We are open from noon-5pm, every Tuesday-Friday, and we welcome you to join us. Located at 70 E. Washington Street in Champaign, The Phoenix is a casual, welcoming space with a living room, computers, board games, musical instruments, and most importantly, companionship. We invite you to join us this week. You're sure to make new friends while you learn more about the challenges and victories facing those who don't have a bed to sleep in tonight.
C-U at Home operates a six bed Men's Recovery House, a two bed Women's House, a three-bed "Step-Above" house, and small Family House.
Residents stay for 6-12 months and are provided with weekly case management and a spiritual adviser. Our goal with each resident is to support, encourage, and mentor them so that they can successfully become more independent, self-sufficient, and enjoy a stable life on their own in the future.
Our application process is generally a three step process, involving a C-U at Home employee and professional case worker. Following these steps, our Housing Team will determine whether or not the program would be a good fit for the individual. If you would like to begin this process, please call our Housing Coordinator at 217-888-0329.
In an effort to stay true to our empowerment model, we ask that all residents pay a small program fee while living in the C-U at Home houses. This fee is on a sliding scale depending on how many hours the individual works in a given week. If the resident is not working, no program fees are required but searching for employment is a requirement.
Our residents go to work each week, meet with a professional case worker, spiritual adviser and attend recovery meetings that are suited to the individual (as outlined in final agreement).
Each resident is asked to enter into a 6-12 month agreement with C-U at Home. We feel that in that time, the resident can begin to develop the skills needed to live independently and gain a feeling of self sufficiency. Since each resident is required to save a percentage of their earning with each paycheck, this time period also allows the residents to save up anywhere from a few hundred to a few thousand dollars. Residents may be allowed to stay for a shorter or longer amount of time but these would be handled on a case-by-case basis.Emergency Shelter Transitional Housing - Family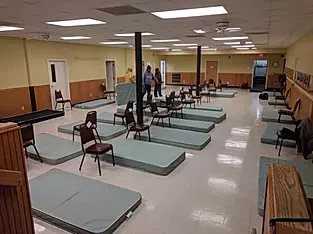 Monday

8:30 AM - 7:30 PM

Tuesday

8:30 AM - 7:30 PM

Wednesday

8:30 AM - 7:30 PM

Thursday

8:30 AM - 7:30 PM

Friday

8:30 AM - 7:30 PM

Saturday

closed

Sunday

closed