Victory Center Ministries - Rescue Mission
Address
505 9th Ave. S.
Clinton, IA - 52732

Hours of Operation
Mon-Sat 9 am-5 pm, Sun 1:30 pm-5 pm

Victory Center Men Shelter is a 48 bed facility that functions as a emergency shelter and transitional housing. The shelter serves hot meals twice a day, 7 days a week.

​The Victory Center is a christian organization and provides it's residents daily opportunities to learn about receive Jesus Christ. Victory Center offers resume assistance to help it's residents seek and find employment. Victory Center cares about it's residents well being and interviews everyone that comes in and helps those needing extra care get in touch with care providers. Many come in needing glasses, dental work, court appointments, mental therapy and we do our best to accommodate these request so they can receive all that we a teaching them. We desire to see you prosper and be in good health functioning independent of any illegal substances and are able to maintain their resources to sustain permanent housing and meet their obligations.

Our shelter provides residence for up to 48+ people. Three balanced nutritious meals are served in the dining room everyday. A clean change of clothes and a comfortable bed are prepared for the needy every evening. There are also showers, laundry facilities and a chapel available. Most importantly, we provide a caring and supportive environment where lives are changed and individuals regain their self-esteem.

All of our services are available to anyone, regardless of their sex, race, religious preference,nationality, financial status. We are here to help everyone who asks for a hand up!

NEW LIFE PROGRAM
YOUR DAILY BREAD
We know it takes more than a hot meal and a few nights stay to get men and women back on their feet. For those willing to take the journey...we offer a way out through our NEW LIFE Program.

We have seen 40% of those who enter the program complete it. That means the addictions that were holding them in bondage are gone! They have continued to live healthy, productive lives!

What a Blessing to God they have become.

Residents who enroll must commit to a 28-week program, during which the resident attends many different classes: Spiritual Recovery I, Spiritual Recovery II, Financial Budgeting, Job Search Skills and Substance Abuse. G.E.D. assistance is also available.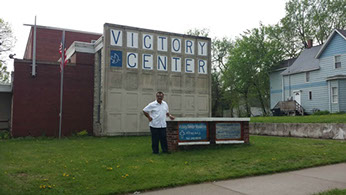 Monday

9:00 AM - 5:00 PM

Tuesday

9:00 AM - 5:00 PM

Wednesday

9:00 AM - 5:00 PM

Thursday

9:00 AM - 5:00 PM

Friday

9:00 AM - 5:00 PM

Saturday

9:00 AM - 5:00 PM

Sunday

1:30 AM - 5:00 PM