Valley Interfaith Promise
Address
1214 3rd Avenue
Columbus, GA - 31902

VIP provides shelter, meals, and comprehensive support services to homeless families. Families must have at least one child under 18 years of age and in their custodial care who will participate in.

A sheltering program for homeless families with children by providing shelter, meals, and comprehensive support services. A qualified homeless family will participate in the program for an initial 30 days. The family will be seeking employment/housing from the Valley Interfaith Promise Day Center during the day and will stay at a host congregation's facility overnight.

Intake procedure: By phone. Application process takes 2-3 business days. Applicants will have to go through a nationwide criminal background check and be drug tested.

Families must be willing to stay at the facilities of various religious congregations during the hours of 5:30 PM - 7:00AM. Will be housed at the VIP's Day Center during the day. Must make concerted effort to gain employment and permanent housing. Usual length of stay is 30 days. Must provide document ation of homelessness and police warrant check for all adults. Any applying family member must not be chemically dependent or have any acute mental illnesses.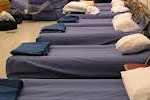 Monday

5:30 AM - 7:00 PM

Tuesday

5:30 AM - 7:00 PM

Wednesday

5:30 AM - 7:00 PM

Thursday

5:30 AM - 7:00 PM

Friday

5:30 AM - 7:00 PM

Saturday

closed

Sunday

closed