Community Share Ministries - Men's Shelter
Address
1116 North Main Street
Cedartown, GA - 30125

Hours: Mon - Sat: 10:00 am - 5:00 pm

Community Share Ministries is a non profit ministry that will provide for the needs of others in the community. Through this organization we will provide shelter for the homeless and food for the hungry. The overall mission is to show Christ's love to those who have physical needs while ministering to their spiritual needs as well, through the gospel of Jesus Christ.

We have now established a mens homeless shelter located on Philpot St, and in the process of forming a womans shelter. God is doing some amazing things for our cummunity and its a blessing to have God use us for that purpose.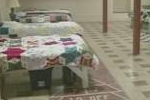 Monday

10:00 AM - 5:00 PM

Tuesday

10:00 AM - 5:00 PM

Wednesday

10:00 AM - 5:00 PM

Thursday

10:00 AM - 5:00 PM

Friday

10:00 AM - 5:00 PM

Saturday

10:00 AM - 5:00 PM

Sunday

closed