The Lords Place
Address
2808 N Australian Avenue
West Palm Beach, FL - 33407

The Lord's Place helps homeless men, women and children who often have no place to go and no one to help them.
The Lord's Place is one of the leading agencies in Palm Beach County delivering services to the homeless. The Lord's Place has four campuses, both residential and day programs, located throughout Palm Beach County. The address of the Administrative Office is 2808 North Australian Avenue, West Palm Beach, FL 33407 and the main phone number is (561) 494-0125.

Provides emergency and transitional housing for homeless families with dependent minor children.
Hours: Mondays through Fridays 10am to 4:30pm; walk in appointments available.
To be eligible: Families that have custody of dependent minor children and who able and willing to work.
Program Name: Engagement Center-Homeless Shelter
Our Family Interim Program provides housing, targeted personalized support services and parenting groups for 14 families. The program allows families time to stabilize and identify the issues that caused their homelessness. Each family is offered weekly case management meetings, counseling and other life skill classes or services to assist them in ending homelessness. The length of stay in the program ranges from 30 - 90 days depending on the needs of the family. Families stay free but are encouraged to save 75% of their income after expenses.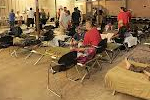 Monday

10:00 AM - 4:30 PM

Tuesday

10:00 AM - 4:30 PM

Wednesday

10:00 AM - 4:30 PM

Thursday

10:00 AM - 4:30 PM

Friday

10:00 AM - 4:30 PM

Saturday

closed

Sunday

closed