St. Laurence Chapel Homeless Day Shelter
Address
1698 Blount Road
Pompano Beach, FL - 33069

St. Laurence Chapel is the working name for the Episcopal Mental Health Ministries, Inc.

Located next to the Broward Outreach Center (BOC).

Hours: Direct Client Services are provided Mondays through Fridays 7:30 to 3:30pm. Every Sunday there is a voluntary chapel service and hot lunch from 12 to 2pm, each week provided by local Episcopal churches.

Transportation Provided
Free van transportation is provided to and from St. Laurence Chapel each morning from Pompano Beach mid-city so that the homeless are able to access services.

Basic & Emergency Needs
Breakfast, lunch,showers, clothing, mailing address, telephone to make and receive calls, hygiene kits, emergency food, bus passes, chapel services (attendance is voluntary).

Medical Care
Medical assessments, vital signs are checked, first aid, medication storage, health and nutrition, education, linkage with primary and emergency health care, appointment tracking, bus passes for medical appointments.

Case Management
Comprehensive assessments, service planning, individual counseling, appointment tracking, budgeting assistance, referrals for housing, specialized supportive services, replacement of client identification cards and family reunification.

Our Partnership with Holy Cross Hospital
Holy Cross Hospital Outreach team provides confidential on site HIV testing and screening weekly.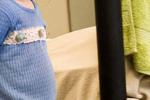 Monday

7:30 AM - 3:30 PM

Tuesday

7:30 AM - 3:30 PM

Wednesday

7:30 AM - 3:30 PM

Thursday

7:30 AM - 3:30 PM

Friday

7:30 AM - 3:30 PM

Saturday

closed

Sunday

closed