New Beginnings of Tampa Men Mission
Address
8535 North Nebraska Avenue
Tampa, FL - 33604

New Beginnings of Tampa offers emergency housing for up to 38 men on a daily, weekly, and monthly basis; they help in navigating county, state, and federal programs.
Location:
8535 North Nebraska Avenue which is conveniently located on the HART bus line.
Requirements:
Their Mission is faith-based and as such they require church attendance on Sunday morning, and Sunday and Wednesday evening, work schedule permitting.
Admission to their programs depends on availability.
Features:
Open floor plan living
Fenced yard
Patio area
Microwave
Refrigerators
Personal space for belongings
Cost:
$100 Weekly
$50 One time Administration fee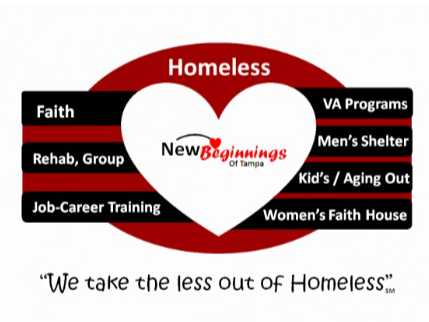 Monday

8:00 AM - 7:00 PM

Tuesday

8:00 AM - 7:00 PM

Wednesday

8:00 AM - 7:00 PM

Thursday

8:00 AM - 7:00 PM

Friday

8:00 AM - 7:00 PM

Saturday

closed

Sunday

closed