Interfaith Hospitality Network Orlando
Address
2313 North Orange Avenue
Orlando, FL - 32804

Services for the homeless. Contact for details of services.

Hours:
Mondays through Fridays 8AM to 5PM

IHN Shelter Program
The IHN Shelter Program is a volunteer-driven, community-based program that provides shelter and comprehensive services for homeless families using facilities and volunteers of faith-based partners.
Each week, one of our participating faith-based partners opens their doors and converts their classrooms or meeting rooms into bedrooms where four homeless families stay. Trained volunteers provide meals, compassionate support and activities for children. Our case management staff works with each family to establish a goal-orientated action plan for obtaining housing and sustainable income. We serve four families, up to a maximum of 14 people at a time.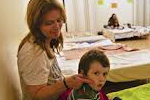 Monday

8:00 AM - 5:00 PM

Tuesday

8:00 AM - 5:00 PM

Wednesday

8:00 AM - 5:00 PM

Thursday

8:00 AM - 5:00 PM

Friday

8:00 AM - 5:00 PM

Saturday

closed

Sunday

closed