Hosanna House
Address
PO Box 5094
Destin, FL - 3254

We are a Christ-centered transitional living facility located in Destin, Florida. We offer hope to women who have been through crisis situations by providing a holistic residential program that focuses on physical, emotional, and spiritual healing; all of which are necessary for a new beginning in life. The goal of Hosanna House is for a woman to become a whole and healthy member of the community, able to give as she has been given to.

Office Hours:
Monday - Friday
9:00 am - 3:00 pm

Hosanna House is a place of new beginnings for women. It is a Christ-centered haven that provides hope through teaching and a loving environment to meet the challenges of a renewed life.
Mission
The mission for Hosanna House is to provide a place where women can come to be renewed. The ministry is based on Isaiah 61:1-4.
Goals
Hosanna House has four specific goals for the women who are served:
to share the Gospel of the Good News of Jesus Christ,
to achieve emotional and spiritual healing,
to transform the inner person, and
to give hope for the future.

What are the requirements to enter the Hosanna House program?
Being addiction free for at least six months, independent of incarceration or an inpatient facility. (This includes all illegal drugs, prescription drugs, & alcohol.)
Being willing and able to work full time and/or attend the local job training center full time.
Having a strong desire to change your life for the better and to become whole, healthy, and self-supporting.
A willingness to make a sincere commitment to the 6-9 month program.
What type of woman do we assist?
Hosanna House is geared towards women who truly want to change their life and come out of abusive and dysfunctional lifestyles into a healthy and self-supporting life. Hosanna House wants to offer hope to women without resources who are struggling to better themselves.
What is unique about Hosanna House?
The goal of Hosanna House is not short-term housing but rather it is to provide women without resources a wholesome atmosphere where they can become independent and healthy members of the community. The focus of Hosanna House is on physical, emotional and spiritual healing which is the foundation of new beginnings.
Hosanna House takes a holistic, Christ-centered approach by offering programs that will enable a woman to receive healing in all three areas. Programs include life skill classes, practical classes, and spiritual programs. Although the life skill and practical classes are necessary for women to become stable and independent, the spiritual programs are most important to the healing process. In order for healing to occur, a woman must truly begin to experience God's presence in her life and realize the hope that she can receive from opening her life to Jesus. Through these Christ-centered programs, a woman can find strength and renewed purpose in her life.
How long can a woman stay at Hosanna House?
Hosanna House provides a residential program that lasts from 6 to 9 months depending on the individual's need.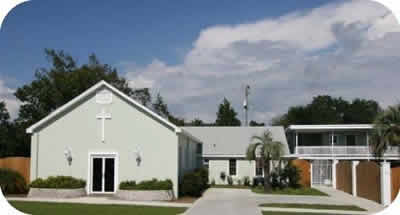 Monday

9:00 AM - 3:00 PM

Tuesday

9:00 AM - 3:00 PM

Wednesday

9:00 AM - 3:00 PM

Thursday

9:00 AM - 3:00 PM

Friday

9:00 AM - 3:00 PM

Saturday

closed

Sunday

closed