Tiffany's House Of Hope, Inc.
Address
1087 Harrirer St
Perris, CA - 92571

We provide free food, clothes, toys as well as other miscellaneous items to people in distress in our community. Regardless of race, creed, or religion. We provide these services to low-income women and children, war veterans, people with disabilities, seniors and shut ins, also the homeless. We're a Federal Tax Exempt Organization 501(c)(3) Public Charity.

You will need your picture ID, and proof of income to receive our services. Please feel free to call for an appointment and location information at:(951)777-4673.

Hours: Mon-Fri: 9:00 a.m. - 5:00 p.m. / Sat: 10:00 a.m. - 12:00 p.m. We're Closed Sundays.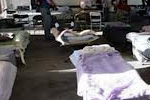 Monday

9:00 AM - 5:00 PM

Tuesday

9:00 AM - 5:00 PM

Wednesday

9:00 AM - 5:00 PM

Thursday

9:00 AM - 5:00 PM

Friday

9:00 AM - 5:00 PM

Saturday

10:00 AM - 12:00 PM

Sunday

closed