Safe Harbor Shelter
Address
295 N. Access Road
South San Francisco, CA - 94080

Hours: Daily 5:30 p.m - 7 a.m.


The Shelter offers emergency and short-term housing options in a 90-bed and 10-cot shelter: safety, warmth, sustenance, and healthcare are the essentials we start with to help the homeless become self-sufficient. Comprehensive, personalized case management and services include: counseling; Redi-clinic care; meals; job search assistance; financial coaching and assistance; transportation assistance; permanent housing placement; and various community gatherings to encourage socializing and to build clients' self-esteem. More than 400 homeless individuals are served at Safe Harbor each year.

Safe Harbor Shelter was created to meet county needs for short-term emergency housing options in San Mateo County. Affordable housing is scarce and costly in the San Francisco Bay area and many low-income residents find themselves being priced out of their homes and communities.

Safe Harbor employs case managers who help residents design a personal strategy to overcome homelessness. Many shelter residents find employment while staying at the shelter thanks to these services. Sam Trans, the county bus service, generously donates bus passes to Safe Harbor residents each day. These bus passes allow Safe Harbor residents to reach their place of work or to visit potential employers and independently follow up on their own personal healthcare needs.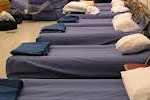 Monday

7:30 AM - 7:00 PM

Tuesday

7:30 AM - 7:00 PM

Wednesday

7:30 AM - 7:00 PM

Thursday

7:30 AM - 7:00 PM

Friday

7:30 AM - 7:00 PM

Saturday

closed

Sunday

closed