Sacramento Loaves & Fishes
Address
1351 North C Street
Sacramento, CA - 95811

Daytime drop-in shelter for single women and families offering breakfast, showers, diapers and baby food, menstrual and incontinence supplies, and resource counseling.
Hours: Monday - Friday, 7 am - 2:45 am.
Loaves & Fishes Dining Room serves a full course, home-cooked, noontime meal for 600-800 homeless guests every day. Over 1000 volunteers including church groups, company employee groups, service clubs and individuals alike, help serve our guests the only meal many of them will have all day.

A separate dining room is available for women and children each morning for breakfast through the Loaves & Fishes Maryhouse Program. This meal is cooked and served by volunteers every day.
Anneke's Haven
Animal kennel to house and feed our guests pets while they access our services. 916-446-0874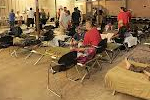 Monday

9:00 AM - 5:00 PM

Tuesday

9:00 AM - 5:00 PM

Wednesday

9:00 AM - 5:00 PM

Thursday

9:00 AM - 5:00 PM

Friday

9:00 AM - 5:00 PM

Saturday

closed

Sunday

closed