Manna Conejo Valley Food Bank
Address
3020 Crescent Way
Thousand Oaks, CA - 91358

Donation Drop Off Hours
M – Fri – 7:30 – 4PM
Sat – 9:30 – 1PM

Food Pick Up Hours
Tue – 10 – 3PM
Thurs – 10 – 4PM
Sat – 10 – 1PM



Manna is situated in a 700 square-foot house in the 'Old Town' area of Thousand Oaks, and serves, on average, more than 1,400 people per month. With holiday distribution programs, we help over 20,000 people each year throughout the 101 corridor cities from the Calabasas Grade to the Conejo Grade.

The pantry offers a large selection of bakery, produce, dairy, meat, canned, boxed, and other staple items suitable for making a warm and hearty meal. Pantry shelves are restocked throughout the day to maintain quantity and variety.

More than 95% of the food Manna distributes is donated by the community and our grocery partners, and varies from day-to-day. Food distribution is on a first come first served basis.

Clients may receive food every 28 days. If more frequent food assistance is needed, we ask that you contact the Cal Fresh Coordinator at FOOD Share. They will be able to advise you on long-term food assistance programs.

Manna is a community based, mainly, volunteer-run food pantry in the heart of Thousand Oaks. Due to the small size of our facility, we can only escort a limited number of clients through the pantry at a time. Please be patient, wait times, especially during the holiday season can be several hours.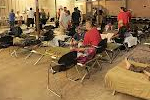 Monday

7:30 AM - 4:00 PM

Tuesday

7:30 AM - 4:00 PM

Wednesday

7:30 AM - 4:00 PM

Thursday

7:30 AM - 4:00 PM

Friday

7:30 AM - 4:00 PM

Saturday

9:30 AM - 1:00 PM

Sunday

closed