Berkeley Food and Housing Project
Address
1901 Fairview St
Berkeley, CA - 94704

Homeless Services hours of operation are Monday through Friday, 9:00 a.m. to 12 noon and 1:00 p.m. to 4:00 p.m. Entry to homeless services are at 1901 Fairview Street, Berkeley, CA 94703

Our daily free community meal also moved to a new location. Our meal is now served at Lutheran Church of the Cross, 1744 University Ave., Berkeley, 94703.

They have eight different programs which range from free evening meals to permanent supportive housing. Men's overnight shelter (50 bed 60 day shelter), women's overnight shelter, women's resource center.
Hours of Operation: 365 days a year; 5:00 p.m. - 7:30 a.m.
Services: 53 bed shelter for men. Men must have a referral from the Shelter Reservation Program (SRP) and arrive at specified arrival time given by SRP personnel. Breakfast and dinner are served daily.

Eligibility: Must be 18 years or older. Must abide by rules and be able to attend to own physical needs. MOS is wheelchair accessible. All clients entering the shelter must have an ID.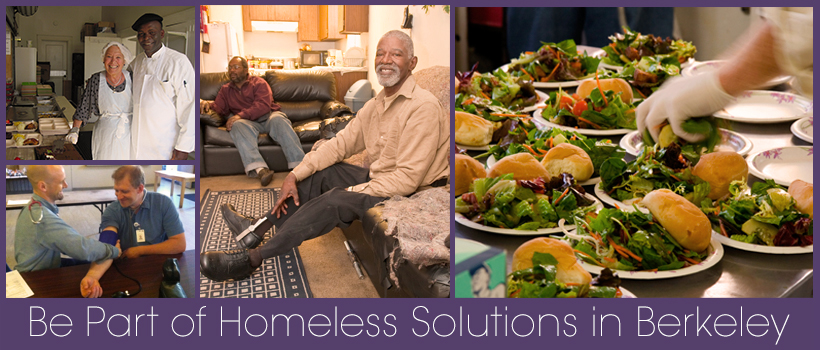 Monday

9:00 AM - 12:00 PM

Tuesday

9:00 AM - 12:00 PM

Wednesday

9:00 AM - 12:00 PM

Thursday

9:00 AM - 12:00 PM

Friday

9:00 AM - 12:00 PM

Saturday

closed

Sunday

closed