Cypress Assistance Ministries (CAM)
Address
11202 Huffmeister Road
Cypress, TX - 77065

CAM, a not for profit 501(C3) organization, relies on donations of many kinds from the community. Without the support of the community, we could not provide the wide array of services that we do to area families. Your donations are crucial to the ministry and are very much appreciated.
Food Pantry Donation Hours
M-W 10am-4pm
Th-Sat 10am-3pm

Food Pantry Donations

A food pantry is maintained for client families. Food donations come from area congregations, schools, scouting groups, civic organizations, corporations, small businesses and individuals.

CAM welcomes groups and individuals that would like to donate or collect food for our pantry. Food drives and donations are accepted year round.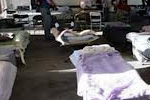 Monday

10:00 AM - 4:00 PM

Wednesday

Tuesday closed 10:00 AM - 4:00 PM

Thursday

10:00 AM - 3:00 PM

Saturday

Friday closed 10:00 AM - 3:00 PM

Sunday

closed