Communion of Saints Parish at St. Philomena Campus
Address
13824 Euclid Ave.
East Cleveland, OH - 44112

Communion of Saints Parish at St. Philomena Campus is a food pantry. Serves Low income or who are facing financial distress and who live in one of the following zip codes: 44106, 44108, 44110, 44112, 44118, 44121, 44143. Documentation Required: Government issued Photo I.D., Proof of Address/Residency Rent Receipts, Post-marked piece of mail current), or Utility Bill), Proof of Income Public Assistance benefit letter, Social Security Benefit letter, Medicaid Card or paycheck stub).

Food pantry service hours: Saturday: 10am-1pm.. .

* Make sure you check by calling the food pantry to confirm that they still are in operation and the hours have not changed.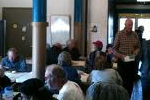 Saturday

Monday closed Tuesday closed Wednesday closed Thursday closed Friday closed 10:00 AM - 1:00 PM

Sunday

closed