Sussex County Food Locker
Address
83 Spring Street, Suite 203
Newton, NJ - 07860

Sussex County Food Locker is a food pantry. It helps low-income individuals and/or households meet their nutritional needs. The Food Locker also may have some toiletries and pet food available if needed.
Individuals in need for food, can come to Social Services and use the intercom by the garage door to ask for food. Please note that this may take a few minutes.
Dates and times of operation:
Monday to Friday from 8:30a.m. to 4:30p.m.

Please make sure to check, by calling the food pantry , and confirm that they still are in operation and that the dates and times have not changed.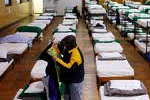 Monday

8:30 AM - 4:30 PM

Tuesday

8:30 AM - 4:30 PM

Wednesday

8:30 AM - 4:30 PM

Thursday

8:30 AM - 4:30 PM

Friday

8:30 AM - 4:30 PM

Saturday

closed

Sunday

closed