Bremen Food & Clothing Bank
Address
180 Helton Road
Bremen, GA - 30110

Bremen Food & Clothing Bank is non-profit organization that serves Haralson county and surrounding areas. Low-income individuals and/or families can receive weekly food assistance. Additionally, individuals can get assistance with gently used clothing, toiletry items, household items, and other. Individuals must complete an application and provide supporting documentation. Please note that this program is income based, therefore individuals must be within certain income guidelines.

Eligibility:

Be at least 18 years old of age
Photo identification

Social security/tax identification number
A clean container for the food

$11 share contribution

Hours of Operation:
Tuesdays from 10:00a.m. to 1:00p.m. & 4:00p.m. to 6:00p.m.

Individuals must arrive between 9:15a.m. and 12:15p.m. or 4:00p.m. to 5:15p.m. in order to complete the paperwork and receive assistance.

Please contact the office for further information.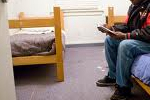 Monday

closed

Tuesday

10:00 AM - 2:00 PM

Wednesday

closed

Thursday

closed

Friday

closed

Saturday

closed

Sunday

closed