Samaritan Hands Ministry
Address
511 North Tarragona Street
Pensacola, FL - 32501

Hours: Monday through Thursday 9:00-11:30 a.m.


Samaritan Hands shows God's compassion and love by providing assistance to those in need.
Some of the services provided are food, clothing, shoes, blankets, utility assistance and much more. In addition, we refer clients to other agencies that aid with job placement, housing, prescription drugs, substance and physical abuse. Occasionally when a need is greater than we alone can provide, we will partner with other agencies to assist in meeting the need.

Every person who comes to Samaritan Hands receives Christian counseling. We take the opportunity to spend time, one on one, sharing with them God's love and developing an ongoing personal relationship.

Counsel clients and witness to salvation through Jesus Christ
Fill food and clothing orders
Make appointments for financial aid
Greet and screen potential clients
Register clients
Answer phones
Operate computer
Food pantry service hours: Monday, Tuesday and Thursday: 9am - 11:30am. .
* Make sure you check by calling the food pantry to confirm that they still are in operation and the hours have not changed.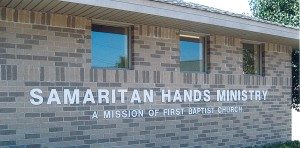 Monday

9:00 AM - 11:30 PM

Tuesday

9:00 AM - 11:30 PM

Wednesday

9:00 AM - 11:30 PM

Thursday

9:00 AM - 11:30 PM

Friday

closed

Saturday

closed

Sunday

closed