Bread of The Mighty Food Bank
Address
325 NE 10th Ave
Gainesville, FL - 32601

Office hours: Mondays through Fridays 8am to 4pm.

We have a five county service area - Alachua, Dixie, Gilchrist, Lafayette and Levy. We're a Partner Distribution Organization under Feeding America. Our 20,000 square foot warehouse has 2,600 square feet of cooler and freezer capacity. Thanks to our generous donors, we now have a fleet of 11 trucks and vans. We're on the road five days a week picking up donated food from generous retailers and wholesalers that in turn gets distributed back to the community.
In an effort to keep perishable and fresh items from sitting in
our warehouse, our "Food on the Move" program was established. This ensures fresh & perishable items don't sit in the warehouse and quickly gets into the hands of those in need.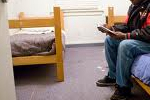 Monday

8:00 AM - 4:00 PM

Tuesday

8:00 AM - 4:00 PM

Wednesday

8:00 AM - 4:00 PM

Thursday

8:00 AM - 4:00 PM

Friday

8:00 AM - 4:00 PM

Saturday

closed

Sunday

closed