Interfaith Hospitality Network (IHN) Shelter program
Address
128 E. Olin Ave, Suite 202
Madison, WI - 53713

Hours:
Office 8:00 a.m. -5:00 p.m. Monday-Friday
Day Center 8:00 - 5:00 p.m. 7 days a week

The IHN Shelter program provides emergency shelter to homeless families with children through a network of Madison area churches and synagogues. Volunteers from these congregations provide overnight shelter, three meals per day and evening activities for the families. Daytime shelter and case management services are provided at The Road Home office and day center. Families staying in shelter must work with a case manager to seek housing, employment and other community services and attend educational workshops. Transportation between locations is provided by The Road Home.
The IHN Shelter program began in 1999 with a dozen congregations dedicated to providing shelter to homeless families with children. IHN is now very proud to say that there are 54 congregations and more than 1,500 active volunteers. Together with The Road Home, IHN provides a safety net for families facing a housing crisis so they can recover and get back on their feet.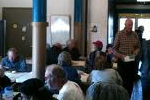 Monday

9:00 AM - 5:00 PM

Tuesday

9:00 AM - 5:00 PM

Wednesday

9:00 AM - 5:00 PM

Thursday

9:00 AM - 5:00 PM

Friday

9:00 AM - 5:00 PM

Saturday

closed

Sunday

closed