Elect Ladies Transition Home
Address
4213 Dale Blvd
Woodbridge, VA - 22193

Office hours: Mon-Fri 9:30 am -3:pm; Sat 9:00 am-1:00 PM
Elect Ladies Transition Home is an organization dedicated to providing a place of hope to women who are struggling to handle life's difficulties, are homeless, and just need to know that there is hope.

The purpose of Elect Ladies Transition Home is to provide a faith-based environment, suitable to equip women with skills to develop a healthy self-identity and help struggling women to become empowered to live a fulfilling life.



Elect Ladies will impart to the residents basic life, spiritual emotional and psychological skills such as: having a healthy

self-awareness, having healthy relationships, boundary skills, anger management skills, crisis intervention, dealing with depression, parenting skills, budgeting and financial planning, faith building and other spiritual disciplines.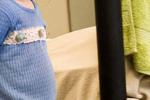 Monday

9:30 AM - 3:00 PM

Tuesday

9:30 AM - 3:00 PM

Wednesday

9:30 AM - 3:00 PM

Thursday

9:30 AM - 3:00 PM

Friday

9:30 AM - 3:00 PM

Saturday

9:00 AM - 1:00 PM

Sunday

closed