Commonwealth Catholic Charities - Homeless Point of Entry
Address
511 W. Grace Street
Richmond, VA - 23230

Hours: Monday-Friday: 9 a.m.-5:00 p.m.

Homeless Point of Entry is the starting point for anyone who is homeless and in need of shelter, case management, and related services. This free program helps clients achieve self-sufficiency and gain permanent housing. Staff works directly with area emergency shelters to fill available beds in greater Richmond.

When you come to Homeless Point of Entry, please bring:
1. ID.
2. Documentation regarding your homelessness.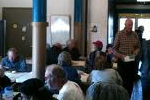 Monday

9:00 AM - 5:00 PM

Tuesday

9:00 AM - 5:00 PM

Wednesday

9:00 AM - 5:00 PM

Thursday

9:00 AM - 5:00 PM

Friday

9:00 AM - 5:00 PM

Saturday

closed

Sunday

closed