Light of Life Rescue Mission (Pittsburgh)
Address
10 E. North Avenue
Pittsburgh, PA - 15212

Show up between 4:30pm to 5:30pm in the Light of the Light Chapel. New guests are offered a bed after roll call if there are openings.

Emergency Men's Shelter. Meals for Residents Direct Substance Abuse Services.
The Light of Life Mission offers a bridge housing program that provides case management, D&A counseling, life skills training, and employment counseling. It is bus accessible (16C, 16B, 11D, and 54C) and has bathing facilities.
38 beds at location.
Hours: 5:30pm - 8am.
Meals served: dinner and breakfast.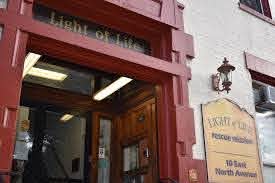 Monday

4:30 AM - 8:30 PM

Tuesday

4:30 AM - 8:30 PM

Wednesday

4:30 AM - 8:30 PM

Thursday

4:30 AM - 8:30 PM

Friday

4:30 AM - 8:30 PM

Saturday

closed

Sunday

closed