PATH (People Assisting Homeless)
Address
309 W Pinon St
Farmington, NM - 87401

Intake hours are: M-F, 1pm-6pm; Sat & Sun 8am-6pm.

Emergency Shelter
36 beds
Alcohol and drug free environment
Provides temporary shelter to men, women, and children of San Juan County
Shelter provides breakfast, afternoon snacks and an evening meal for residents.

Daily Bread
Provides a noontime meal; 11:30am-1:00pm, Sat 11:30a-12:30p. everyday 364 days per year.

People Assisting the Homeless, Inc. (PATH) is a non-profit organization that has been in existence since 1983 that provides services to the homeless and disadvantaged individuals of San Juan County. PATH originally was formed under the name of San Juan Council of Community Agencies in 1983 and became a 501 (c) (3) in 1988. Subsequently, the name was changed in 1994 to People Assisting the Homeless, Inc.

It is the mission of PATH to temporarily provide for the basic needs (food, shelter and clothing) of homeless individuals, families and others in need; to provide.

In addition to providing the basics, The Emergency Shelter program offers numerous mini-programs to these individuals that bring hope back into their lives. Three of these mini-programs are:
Temporary Housing - Once the resident has secured employment; the resident is allowed to remain in the shelter for six months while rebuilding their lives and creating a financial base through our savings program and budgeting classes.
On-site social worker - Provides a multitude of vital services among which include assisting the resident with understanding what may have caused the homelessness, providing assistance in coping with their current situation; preventing homelessness in the future. The social worker coordinates referrals to other vital service agencies in the community to insure the resident gets the complete and thorough care needed along with assistance in locating affordable housing.
Resource room - Allows residents to learn basic computer literacy, create resumes and search for jobs.information, guidance and support services designed to help residents regain productive, self-supportive lifestyles.

PATH Food Service provides opportunities for individuals with little or no employable skills the opportunity to gain basic skills for future employment. The program is available for breakfast, lunch and snack style catering for up to 150 persons. Measurable Goals of our organization:To continue to provide food programs, temporary- transitional & permanent supportive housing to homeless persons in a safe and structured environment. Provide case management activities which include: parenting, time management, budgeting, parenting, nutrition and health, and job coaching, etc. Facilitate opportunities for clients to have an active role in the day to day activities.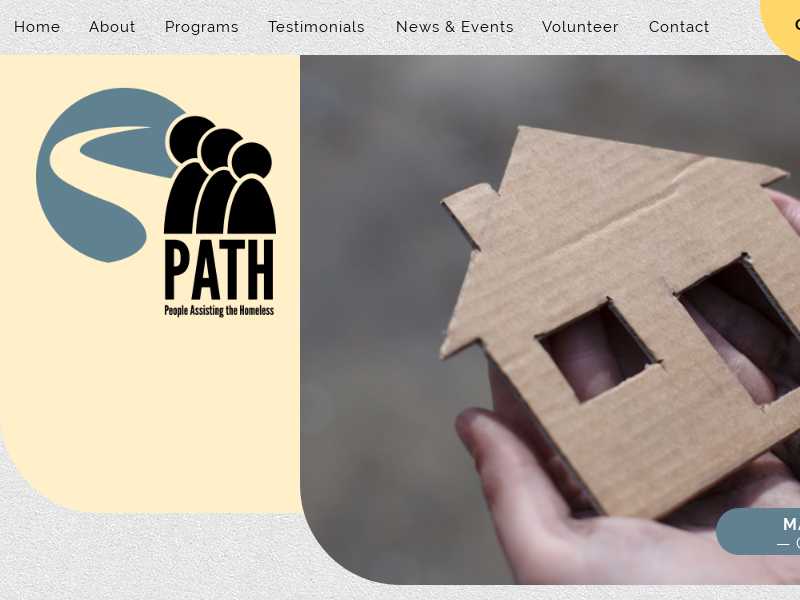 Monday

9:00 AM - 5:00 PM

Tuesday

9:00 AM - 5:00 PM

Wednesday

9:00 AM - 5:00 PM

Thursday

9:00 AM - 5:00 PM

Friday

9:00 AM - 5:00 PM

Saturday

closed

Sunday

closed