Samaritan Inn Emergency Homeless Shelter Program
Address
48 Wyker Rd
Franklin, NJ - 07416

Caller must be homeless in Sussex County and not have access to any other resource)financial or friends who can provide temporary shelter until business hours); must have valid identification; must be over 18 years old; assessed to be psychiatrically, medically and cognitively stable and self sufficient, and does not require supervision or place others at risk. Domestic Violence callers are referred to DV shelters that can provide support and security. *Adults without minors are not sheltered between May-October due to limited funding. All family members must agree to rules of program.

Contact office or hotline for a telephone Intake. Caller must be willing to remain at an unblocked telephone number while worker makes arrangements for shelter.

M-F (9:00am - 5:00pm) Evenings, Weekends and Holiday contact hotline for service.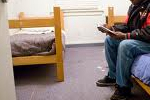 Monday

9:00 AM - 5:00 PM

Tuesday

9:00 AM - 5:00 PM

Wednesday

9:00 AM - 5:00 PM

Thursday

9:00 AM - 5:00 PM

Friday

9:00 AM - 5:00 PM

Saturday

closed

Sunday

closed