Room At The Inn - Marquette Homeless Shelter
Address
347 Rock Street
Marquette, MI - 49855

Homeless Shelter
Shelter Services:
Room at the Inn offers nighttime shelter, opening at 6pm each evening and closing at 6am. Dinner is provided each evening to shelter guests, between the hours of 6:30 and 7:30 p.m. The Warming Center serves as an early morning shelter to guests from the hours of 6 to 8 a.m. A shower facility is also located in the Warming Center. Guests can receive mail and use the shelter address for business purposes. The Room at the Inn also assists with transportation services when the shelter is located in one the outlying churches. Room at the Inn offers referral services to existing social service agencies in the community.

Criteria for staying at Room at the Inn:
Guests must be 18 years or older.
Guest must be Marquette County resident.
Guests must be stable and able to self manage their behavior.
Must have medications if needed to maintain stability.
Guests must be able to manage their own medications.
Guests must maintain their personal hygiene and care for their sleeping area while in shelter.
Guests must be able to live in community environment.
Guests must be able to climb stairs and get up and down from a mattress on the floor without assistance. Must be able to leave the shelter each morning for the day.
Guest must be medically stable.
Guest may not be on the sex offender registry.

Checking In to Room at the Inn:
Guests may check in between the hours of 6 - 9 pm.
Guests will be required to complete an intake form on first night of stay.
The next day, new guest must meet with Guest Advocate to complete and sign Shelter Contract.
Guests will be checked for wants and warrants through the Marquette City Police at intake.
Each guest will be required to sign in and go through a personal search and breathalyzer test each evening.

Guest must register at a 0.06 or lower on PBT reading to stay at the shelter.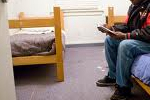 Monday

6:30 AM - 7:30 PM

Tuesday

6:30 AM - 7:30 PM

Wednesday

6:30 AM - 7:30 PM

Thursday

6:30 AM - 7:30 PM

Friday

6:30 AM - 7:30 PM

Saturday

closed

Sunday

closed