HARA Allegan, MI
Address
122nd Avenue
Allegan, MI - 4901

ALLEGAN COUNTY COMMUNITY MENTAL HEALTH SERVICES provides a HARA contact: Housing Assessment and Resource Agency.

Office hours: Mondays through Fridays 8am to 5pm.

Those experiencing homelessness in Allegan County. Can provide rent and security deposits to those who qualify: must be homeless living on the streets or in a shelter, or facing an eviction with 14 days or less to vacate the unit, and have income less than 30% Area Median Income.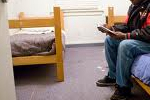 Monday

8:00 AM - 5:00 PM

Tuesday

8:00 AM - 5:00 PM

Wednesday

8:00 AM - 5:00 PM

Thursday

8:00 AM - 5:00 PM

Friday

8:00 AM - 5:00 PM

Saturday

closed

Sunday

closed