Providence Ministries - Loreto House
Address
51 Hamilton Street
Holyoke, MA - 01040

Transitional housing program for men in recovery.
Length of Stay:
2 years upon approval of case manager.
Wait List:
Yes.
Restrictions:

Sobriety, 9:00pm curfew and must be out by 8:00am; $300 nominal contribution.
The program houses from 40-60 men each year with 25 rooms.
Services:
Food
Shelter
Access to medical care
Support services dealing with addictions,
Housing & employment search
Life/survival skills
Job preparation assistance
Educational opportunities.
The program is partially funded by grants from HUD (Housing & Urban Development), CDBG (Community Development Block Grant) and FEMA.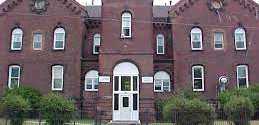 Monday

8:00 AM - 5:00 PM

Tuesday

8:00 AM - 5:00 PM

Wednesday

8:00 AM - 5:00 PM

Thursday

8:00 AM - 5:00 PM

Friday

8:00 AM - 5:00 PM

Saturday

closed

Sunday

closed