New Life Day Center
Address
224 North Martin Luther King Blvd.
Lexington, KY - 40507

Hours of operation: Monday - Friday 8:30am - 3:30pm for homeless clients
Open to other guests: Monday - Friday 9am-noon & 1pm-3pm
Transportation Services: Daily route begins at 10am or by appointment during guest hours

New Life Day Center is a day-time refuge for homeless clients to escape the harsh realities of life on Lexington streets. We are a "connecting point" for homeless by helping them find other homeless Lexington area services they require like night shelter, food, medical treatment, dental, mental health services, substance recovery, clothing, etc. We help set up appointments with those services and transport them to/from appointments. We also provide personal storage lockers for clients to store their often meager, but still vital possessions.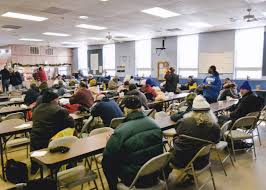 Monday

8:30 AM - 3:30 PM

Tuesday

8:30 AM - 3:30 PM

Wednesday

8:30 AM - 3:30 PM

Thursday

8:30 AM - 3:30 PM

Friday

8:30 AM - 3:30 PM

Saturday

closed

Sunday

closed